Sculpting Glass: Between a Rock and a Hard Spot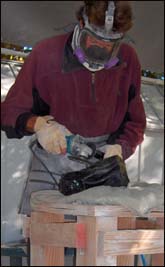 By Karen Riggs, Editor EasternSierra.US

The first time Skandar tried sculpting a piece of obsidian, he said he remembered thinking, "That is a dangerous piece of rock." It was a real eye opener, after 26 years of carving stone.

"She demands respect and protection. will explode and break off sharper than a steel edge, down to a single molecule. She can cut your throat," Skandar explains of his latest love, molted silican cooled under duress. "It can be sharp and fall apart under you, but peel a layer away and she dresses up quite nicely."

He's working on a collection called "Transitional Obsidian." Communicating power, these pieces are Skandar's interpretation of Sierra Primitive style sculpture. He follows the fractures and gas bubbles of the great designer, Mother Nature, to unveil the glass. "The pieces are going back to a natural state . . . I just let her shine through," he said. "The glass told me so."

And yet, it takes a lot of work to get there. Cut it with a saw, knap it with a grinder; channel it with an abraser and polish it to 12,000 grit. "I had a piece that was almost done and it broke." He went with it, and 10 hours later, he had three. "It's not about what you make. It's about challenge, it's about focusing, it's about a state of being."

Collectors of Skandar's work say they enjoy the warm feeling that the sculptures evoke when brought in to their homes. The open interpetation of each piece of artwork gives it a open freedom not unlike the open range.

Obsidian is held under a lot of tension, a quality which begs comparison with the artist. Built like a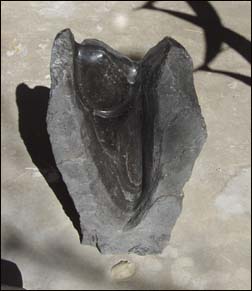 bow and strung with purpose, Skandar is carving obsidian partly because nobody else is. An ardent individualist, Skandar has traveled great lengths to experience contrasting cultures and environments.

While his father has served for many years on the Board of Directors for the Art Institute of Chicago and Skandar studied there in his 20s, his seminole moments come more from elemental experiences than academic. The sandbox kingdoms, learning the art of serious bouldering while still a young boy, and living as an inhabitant in remotest regions of Pakistan, Skandar has gone far, wide and deep for the love of rock.

His earliest rock climbing escapades began at private school when he was 9 years old. "The game was called 'bouldering.' We would climb up with four hands and down with three. My teacher would have us look at the rock and see not only one route, but a multitude of routes. Then, we'd do it with our eyes closed," Skandar remembers.

For high school, he attended Midland in Santa Barbara County, "a prep school that was anything, but preppy. It was 60 boys on a 3,000 acre ranch," according to Skandar. Much of the time was spent roaming. "I took one look at those mountains . . . you could go out your cabin, run for three days and wouldn't see anyone."

It was at that time he met sculptor/stone carver John Cody, a major influence for Skandar. Living in the San Rafael Wilderness, Cody was making a home of stone and logs, living in a tent with his family and rhodesian ridgebacks. Cody was carving serpentine by hand, a labor intensive process. Later, Skandar would return to serve as ranch foreman, sidekick and polisher. "At the time, even though I was sanding it, I couldn't see what he was doing."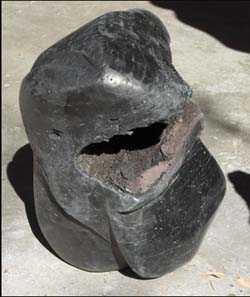 Still, Skandar loved rock, at least moving over it. He went to work for the Palisade School of Mountaineering, as a camphand and finally as an assistant guide. He worked guiding on granite through summer and sanding on serpentine all winter. "I thought I could transfer it (climbing the Palisades) into sculpting, but I really hadn't put it together."

So, he went farther from home and ordinary American life at 25 years old. Seizing an opportunity to join an expedition to Pakistan, he accompanied the 100-day trip which became the book "Summit Fever," by Andrew Grieg and earned $6 a day, plus expenses. He liked it so much, he decided to stay as local guide for local wages, leading trips and eventually training guides for Walji, a tour operator.

He accepted an invitation to live in Hunza, a 10 mile long valley that sits at 8,000 feet elevation, surrounded by mountains of 25,000 feet high. Not a commonly visited destination, Skandar was the only caucasion resident of Hunza at the time. An open-minded family welcomed him into their home, but the cautious matriarch set his sleeping quarters in the pantry for his first month's stay.

For 10 years and on, he worked as a mountain guide, living with the people of Hunza. His given name, Alexendar Reid, metamorphosed into Sirkandar Isasm (Alexandar the Great). He used his climbing skills to help trim the poplars, which were used for the timber of houses and firewood, and he also had the privilege of helping with the water channels, because of his experience with stone. After a time, "Ego-based climbing fell away. It lost it's carbonation," Skandar said. He found small pleasures in the way of life, channeling water with the elders, drinking salt tea and discussing philosophy.

But, he was eventually drawn back to the United States and took a fast-paced sales job with The North Face in San Francisco, where he earned the title Scandalous Skandar. He thrived there, too, for 10 years, and earned top awards for salesmanship.

Yet, he yearned for nobler geography, so he heeded a call to return to Bishop and work for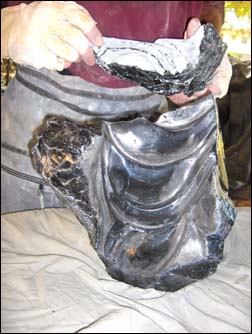 James Wilson of Wilson's Sporting Goods and then assist Galen Rowell to help Galen set up the Mountain Light Gallery in Bishop. Skandar was also dying silk and tapestries at the time . . . and partying. "It was really a heartbreak situation. I realized I had to sober up and do my own thing, because I was in my 40s."

So, he set about to find his way back to sculpting. "It was like going to school. I wanted to taste it all:" Italian marble, Utah Alabaster, granite, mixed media . . . and now glass. Like the other great influences of his life, there was already an approach in existence, an order waiting for discovery. And it came about through observation and patience. "When I see a stone, I see an inherent pattern. Like rock climbing and mountaineering, it's about finding patterns."

At first, he was in a hurry. "I did 300 sculptures one year," he said. And then he started taking workshops from Ante, a master stone sculptor from Croatia. " 'You must be a terrible lover. Don't be in such a hurry.'" Ante told him. '"Romance the stone. Try to put in the sweet expression on like they are lovers. '"

So, going out on a limb, Skandar sculpts stone with loose anatomy and whimsical gesturing. He sees imagery in the stones and brings it out. But, the glass is less whimsical and more powerful. Creating with obsidian is "like walking down a forest trail past twilight. It's partly intuitive. There's no control, no one recipe that makes it work," he said.

There is a historic aspect to the black glass which he finds appealing, as well. "It was a medium used by shamans and sorcerers to see into the past or the future." For Skandar, evoking an emotional healing from his sculpture is the ultimate goal. "The intention of my artwork is to seek patterns that connect the observer to be grounded and inspired. It is a mirror experience for the artist and collector."

Skandar shows work by appointment and his work can be seen at Inyo Council for the Arts, Pegasus Gallery and Spellbinders and his work is represented in Las Vegas and Sedona Arizona.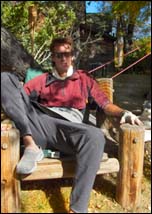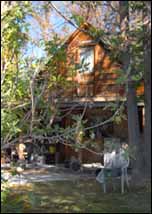 Skandar at the homestead, place of work & rest, Bishop.
---
EASTERNSIERRA.US
P.O. Box 941, Bishop CA, 93514
(760) 873-3169
info @ easternsierra.us (remove spaces to send)


Eastern Sierra US - A guide to the Eastern Sierra Nevada: Bishop, Mammoth Lakes, Bridgeport, Independence, Lone Pine and the counties of Inyo and Mono. Elevations from Mt Whitney to Death Valley.